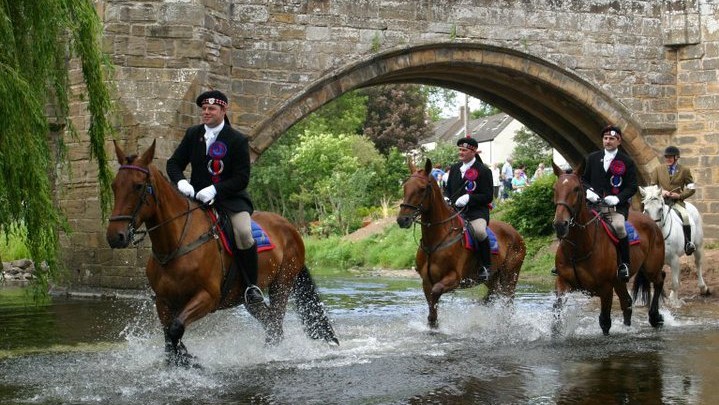 We provide horses for all the Border common ridings and gala days.
These are rides of between 5 and 25 miles – most are suitable for the experienced rider only. They are fast, fun and furious and enjoyed by the young and old. You do not have to belong to that town to take part.
We provide the horse all ready to go at the town – all you have to do is meet us half an hour before at the leave-off point. Most riders do wear correct riding gear but a show jacket is not compulsory. A shirt, tie or polo neck and jacket will suffice but you must be tidily dressed. Please bring your own hat – if you don't have a hat you MUST contact us prior to the ride.
Please note we do recommend that we see you ride prior to the event so that we can assess and mount you correctly.
If you want a steadyish first ride – we would recommend Threepwood, Lanark Wednesday, Lindean, Torwoodlee, Melrose, Kelso Monday, Thursday or Friday, Musselburgh Monday, Lauder Thursday, Coldstream Monday, Wednesday or Friday.
For the fast and furious – Philipbrigg, Moss Paul, Southdean, Duns or Kelso Yetholm.
You can book online or with our booking form. Both will be available from January of each year. Book your favourite horse/pony early to avoid disappointment.